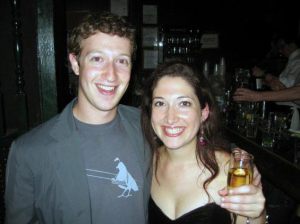 The Zuckerberg clan has been split in two by Google's acquisition of Wildfire Interactive, one of Facebook's top marketing partners. Google and Facebook are fierce competitors in the social arena. So it's already awkward for Facebook that Google now controls a tool that brands use to manage their Facebook pages.
But it's even more awkward on a personal level. That's because not one but two of Facebook CEO Mark Zuckerberg's close relatives work at Wildfire. His youngest sister, Arielle, works for Wildfire as a junior product manager. And his brother-in-law, Harry Schmidt, who's married to Mark's sister, Donna, works as a product strategies there. He joined last November—a few months after Arielle started there.
We know this because Mark's older sister, Randi, pointed it out on Twitter: "Congrats Wildfire! There are officially now more Zuckerberg family members working for Google than Facebook! #awkward ;)"
Arielle, who's currently traveling in Israel, agreed with Randi's assessment: "Not gonna lie… This feels pretty awkward."
How awkward can this seeming "family feud" become for the Zuckerbergs? Do you think there was some sort of collaboration between the two social media giants about this issue? Feel free to speculate with us and drop your opinions in the comment box below!
Image: Viral Swagger