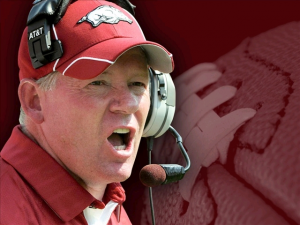 In case you missed the news, two days ago Western Kentucky University held a press conference to announce that Bobby Petrino, undeniably one of the nation's elite football minds, had agreed to a four-year, $850,000 per year deal to take over the Hilltoppers.
'Affair'
Why, it was only seven months ago that Petrino, at the time the University of Arkansas' head coach, was riding his motorcycle when he crashed along Highway 16 near Crosses, Arkansas. When asked by school officials to explain what had happened, he failed to mention that, eh, also on the bike was Jessica Dorrell, a 26-year-old former Razorbacks volleyball player who worked as the student-athlete development coordinator for the football program.
It turned out that Petrino, a married father of four, was not only having an affair with Dorrell (who was engaged at the time), but was a key voice on the board that hired her for the position when she wasn't even remotely qualified.
'Virtues of greed'
To his credit, Jeff Long, the school's athletic director, defied the wishes of every pigskin-blinded Razorback fan and fired Petrino.  Now, ethics and morals and character be damned, Bobby Petrino has returned, spewing off nonsense about second chances  and learning from mistakes and making things right.
This has been a year unlike any other; one where the virtues of greed and the color of green don't merely cloak big-time college athletics, but control them. In case you haven't noticed, we are in the midst of a dizzying, nauseating game of Conference Jump, where colleges and universities—once determined to maintain geographic rivals in order to limit student travel—have lost their collective minds.
It's the athletes ultimately getting screwed. They are told they will receive a great education, that these will be the greatest years of their life, that the college experience is a special one, that only the highest of standards exist. Then they meet their new coach: Bobby Petrino.
Are you in favor of Bobby Petrino returning as the coach of the Hilltoppers? Do you think college football nowadays are played just for money?
Source: Jeff Pearlman, Special to CNN
Image: WBRZ