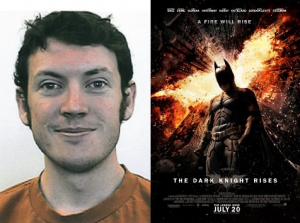 Details emerging on the Colorado massacre suspect show a budding scientist, brimming with potential, who pursued a graduate program even as he assembled weaponry he would allegedly use in the deadly midnight rampage inside an Aurora movie theater. James Holmes planned the attack with "calculation and deliberation," police said Saturday, receiving deliveries by mail that authorities believe armed him for battle and were used to rig his apartment with dozens of bombs.
In Aurora, investigators spent hours Saturday removing explosive materials from inside Holmes' suburban Denver apartment a day after police said he opened fire and set off gas canisters in a theater minutes into a premiere of the Batman film "The Dark Knight Rises." The massacre left 12 people dead and 58 injured. His apartment was rigged with jars of liquids, explosives and chemicals that were booby trapped to kill "whoever entered it," Aurora Police Chief Dan Oates said, noting it would have likely been one of his officers. Holmes received several mail deliveries over four months to his home and school and bought thousands rounds of ammunition on the Internet.
Holmes was in solitary confinement for his protection at a Denver-area county detention facility, held without bond on suspicion of multiple counts of first-degree murder. He was set for an initial hearing on Monday and has been appointed a public defender.
Among the deceased victims was a 6-year-old girl and a man who died on his 27th birthday and a day before his wedding anniversary. Families grieved and waited at hospitals, which reported at least seven still in critical condition Saturday and others with injuries that likely are permanent.
President Barack Obama, who called in his weekly radio address for prayer and reflection on the rampage, was scheduled to travel to Colorado on Sunday to visit with the families of victims.
What could have driven James Holmes to go on a shooting rampage during the Batman movie screening? Do you believe he is insane?
Image: Patriots for America