07 May 2011 Last updated at 04:27 GMT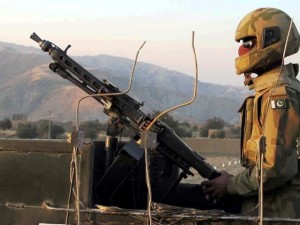 Yesterday, coordinated attacks by alleged Taliban fighters were carried out on the Afghan city of Kandahar. According to Afghan President Hamid Karzai, the attacks were in retaliation for the recent death of Al Qaeda terrorist Leader Osama bin Laden. The insurgents first attacked the governor of Kandahar's provincial palace, then moved on to the Afghan National Police (ANP) and the International Security Assistance Force (ISAF) buildings in Aghandab River Valley area.
The attacks by the insurgents included RPGsr or rocket propelled grenades, and small arms fire. There was also several suicide bombers involved in the attack against several Afghan locations. According to the Afghan media, there were around 20-30 wounded in the fighting. They also reported that all of the suicide bombers in the attack were killed.
"Al-Qaeda and its terrorist members who have suffered a major defeat with the killing of Osama bin Laden in Pakistani territory have tried to hide this defeat by killing civilians in Kandahar and take their revenge on the innocent people of Afghanistan," Karzai said in a statement. The attacks on Afghanistan were said to be by the Taliban because of statements made in their website about the death of Osama bin Laden. The statement read:
"The Islamic Emirate (the Taliban's name for itself) believes the martyrdom of Sheikh Osama bin Laden will give a new impetus to the current jihad against the invaders in this critical phase of jihad. The tides of jihad will gain strength and width. The forthcoming time will prove this both for the friends and the foes." The statement was signed by the general leadership of Al Qaeda.
U.S. Marine Corps stationed in Afghanistan stated that the fighting began around 1 pm in Saturday and continued on until late in the afternoon. Initial reports indicated that there were at least six suicide bomber stopped before they could detonate. However, the Pajhwok agency reported that at least 20 blasts had hit the city over the course of the afternoon, with two of them being suicide bombers.
The killing of Bin Laden, along with the Taliban's announcement last week of increasing their attacks has sparked fear among the Afghans and other locals in the area.  Because of the increased likelihood of further attacks, the American soldiers who are stationed in Afghanistan, Iraq and other Arab countries have been placed on high alert for any retaliatory actions against them and the local people.