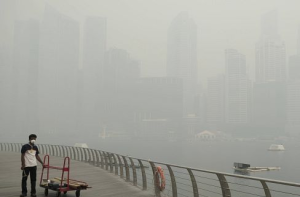 Singapore's prime minister has warned that the haze engulfing the city-state could last for weeks, as air pollution soared to record levels.
'Definitive action'
The pollution standards index peaked at 371 on Thursday, breaking previous records and well above hazardous levels, before falling to about 300. The haze is the result of forest fires started by farmers clearing land on the Indonesian island of Sumatra.
The issue has sparked accusations between the two neighbours. Dr Vivian Balakrishnan, Singapore's Environment and Water Resources Minister, wrote on his Facebook wall that he would demand "definitive action" from Jakarta.
'Hazardous pollution levels'
The poor air quality has prompted widespread buying of disposable face masks, leading shops to run out of stock. Parts of Malaysia have also recorded "hazardous" pollution levels, with over 200 schools in the country's south ordered to shut. Malaysia's Department of Environment has also banned open burning in some states. Indonesia's forestry ministry said it intended to use cloud seeding to try to induce rain on the affected area of Sumatra.
Indonesian officials have suggested that foreign palm oil investors, including Singaporean companies, may bear some responsibility for the fires. However, several major Singapore-based palm oil companies have denied any involvement. Singapore's prime minister said the city-state had provided satellite data to Indonesia to help identify who was responsible for the fires. He added that if any Singaporean companies, or companies with a presence in Singapore played a part in the fires, they would be held responsible.
Who is to blame for this hazardous haze shrouding Singapore and Malaysia? What should be done to remedy the situation?
Source: BBC News
Image: Breaking News