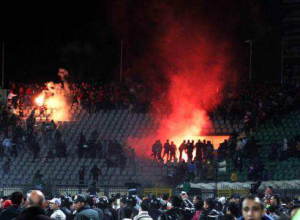 Political tensions flared Wednesday after more than 70 people were killed when fans rushed the field and rioted at a soccer game in Egypt.
The clashes left at least 74 dead, Egypt's health ministry said in a statement. At least 1,000 people were injured, 150 of them critically, ministry spokesman Dr. Hisham Shiha said. Most of the injured had concussions and deep cuts, he said.
The fighting occurred in a stadium in Port Said after the home Al-Masry team beat Cairo's Al-Ahly team 3-1. Fans from both sides bashed each other with rocks and chairs, said Mohamed Sultan, head of the ambulance association in Port Said. Many of those who died fell from bleachers inside the stadium, according to Ahmed Saeed, an official from the Port Said governor's office. Others suffocated, said Al-Ahly fan Amr Khamis, who returned to Cairo early Thursday with his head bandaged after an Al-Masry fan beat him with a wooden stick.
Authorities contributed to escalating violence, said Mamdouh Eid, the executive manager of the Al-Ahly fans committee. Tension was building throughout the game, Eid said, as Port Said fans threw bottles and rocks at players. At least 47 people were arrested after the clashes, he said.
When the clashes broke out, about 22,000 people were inside the stadium, which can hold up to 25,000 people. About 2,000 Al-Ahly fans were at the game, he said. The Muslim Brotherhood condemned the violence and said authorities had failed to protect citizens.
Source: CNN
Image: USA Today