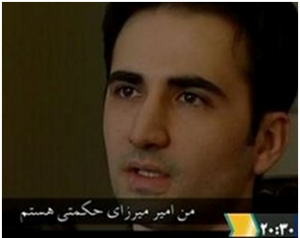 The semi-official Fars news agency in Iran on Sunday broadcast video showing what it called the confessions of an alleged U.S. spy. In the video, a young man, who says his name is Amir Mirzai Hekmati, speaks fluent Farsi and English. He said he joined the U.S. Marine Corps and had worked with Iraqi officers.
CNN could not confirm the authenticity of the report, and the U.S. State Department on Sunday did not immediately respond to a request for comment. The purported confession was not broadcast in full by Fars and it was not clear what questions Hekmati had been asked. He appeared calm and collected, sitting in a quiet, well-furnished room.
According to Fars, Hekmati was born in Arizona and began serving in the U.S. military in 2001. He received language training and became an intelligence analyst, it said. The news agency also broadcast photographs of Hekmati, and an image of a card that identified him as belonging to the U.S. armed forces.
State media reported Saturday that Iran's Intelligence Ministry claimed it had arrested an Iranian-American working as a CIA agent. The alleged spy is a CIA analyst who has served in American military bases in Iraq and Afghanistan, state-run Press TV reported, citing a statement from the Intelligence Ministry. The suspect was "tasked with carrying out a complex intelligence operation and infiltrating the Iranian intelligence apparatus," Press TV reported.
Source: CNN.com
Image: Yerkir Media