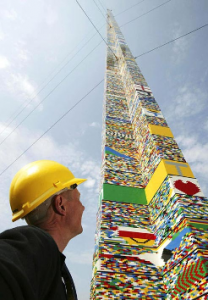 It's not just children who like to build towers with Lego – the internet is alive with discussion on how many Lego bricks, stacked one on top of the other, it would take to destroy the bottom brick. So what's the answer?
'No big bang'
Looking on the internet, Dr Ian Johnston, an applied mathematician and lecturer in engineering, expected to find the answer, but was surprised to find only a lot of speculation. Perhaps that's because not everyone who has pondered the question has ready access to a hydraulic testing machine.
The 2×2 Lego brick looks vulnerable, placed on top of a metal plate, which a hydraulic ram is pushing upwards. On top of the brick is a second plate, with a load cell on top of it, measuring the force being exerted. Safety glasses on, the engineers begin to nervously edge towards the door. The force climbs on, above 4,000N. And then… Nothing. Well, not much. There is no big bang. The brick just kind of melts.
'Higher than Mount Olympus'
The average maximum force the bricks can stand is 4,240N. That's equivalent to a mass of 432kg (950lbs). If you divide that by the mass of a single brick, which is 1.152g, then you get the grand total of bricks a single piece of Lego could support: 375,000. So, 375,000 bricks towering 3.5km (2.17 miles) high is what it would take to break a Lego brick.
"That's taller than the highest mountain in Spain. It's significantly higher than Mount Olympus [tallest mountain in Greece], and it's the typical height at which people ski in the Alps," Dr. Ian Johnston says (though many skiers also ski at lower altitudes). "So if the Greek gods wanted to build a new temple on Mount Olympus, and Mount Olympus wasn't available, they could just – but no more – do it with Lego bricks. As long as they don't jump up and down too much."
What is the tallest Lego structure you have built? Do you think it is possible to build a 3.5km tall Lego tower?
Source: BBC News
Image: Swick