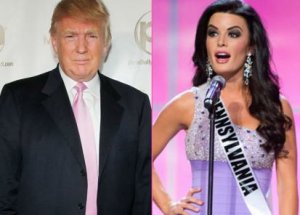 Miss Pennsylvania USA 2012 Sheena Monnin has resigned from her beauty queen role in the Miss Universe Organization. She claims that she witnessed "fraudulent" behavior by officials at the Miss USA Pageant this past weekend where she alleges the top five finalists were already selected "before the show ever started."
The 27-year-old told her Facebook followers that another contestant "saw a folder lying open to a page that said 'FINAL SHOW Telecast, June 3, 2012′ and she saw the places for Top 5 already filled in.":
"In good conscience I can no longer be affiliated in any way with an organization I consider to be fraudulent, lacking in morals, inconsistent, and in many ways trashy. I do not support this system in any way. In my heart I believe in honesty, fair play, a fair opportunity, and high moral integrity, none of which in my opinion are part of this pageant system any longer."
Miss Universe, however, revealed that the former beauty queen is not being completely honest. On top of calling her allegations "false," the organization released an email in which Monnin criticized the inclusion of transgendered contestants. It reads:
"I refuse to be part of a pageant system that has so far and so completely removed itself from its foundational principles as to allow and support natural born males to compete in it. This goes against ever (sic) moral fiber of my being."
Donald Trump has announced he plans on suing Monnin over the "ridiculous" accusations and added that the organization doesn't even care who the final contestants are. He thinks "she's angry about losing," but made sure to state "she didn't deserve to be in the top 15."
Just between us here — do you think that the pageant is rigged? Or is Miss Pennsylvania making it all up? Share your opinions with us!
Source: Perez Hilton
Image: Celebrity Gossip