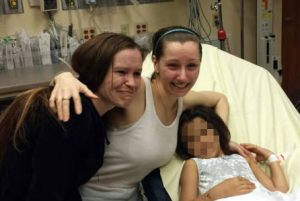 The first time most of America heard Amanda Berry's voice was on a frantic 911 call.
'I'm free now'
"I've been kidnapped, and I've been missing for 10 years," the 27-year-old woman said on the call, which was made on Monday. "And I'm here. I'm free now."
Berry, Georgina "Gina" DeJesus and the 32-year-old Michelle Knight each disappeared from the same Cleveland street — Lorain Avenue — three miles from the home in which they were found Monday evening. They escaped after Berry broke out the bottom of a screen door and called for help Monday evening, startling neighbor Charles Ramsey who came over and helped kick in the door. Cleveland police and the FBI hailed Berry as a hero for her daring escape.
Three men have been jailed in the women's disappearance — 54-year-old Pedro Castro, 50-year-old Onil Castro and 52-year-old Ariel Castro, who neighbors said lived at the house. All three are expected to be charged in the coming days.
'Noticed signs earlier'
Some neighbors of Ariel Castro spent Tuesday second-guessing themselves, questioning why they hadn't noticed signs earlier and if they could have prevented the horrors. Marti, for one, asked himself why he didn't question why Castro — who, he thought, lived alone — would return each day with bags of McDonald's food, or who would watch the little girl he occasionally took outside. He also recalled how Castro seemed to steer him away from the house when they talked.
Berry was last seen after finishing her shift at a Burger King in Cleveland on April 21, 2003. It was the eve of her 17th birthday. DeJesus disappeared nearly a year later, on April 2, 2004. She was 14. Michelle Knight vanished on August 22, 2002, and her family reported her missing the next day, Flask said. She was 21. Little was known about Knight's case Tuesday.
What do you think was Ariel Castro's motive for kidnapping the three women? Feel free to share your thoughts regarding this story!
Source: Matt Smith. Greg Botelho and Martin Savidge, CNN
Image: Examiner