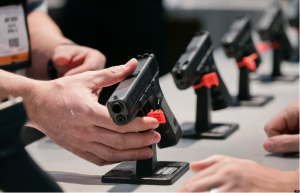 At least five people — three in North Carolina, one in Indiana and one in Ohio — were injured after weapons went off at gun shows Saturday, officials said, at a time when there's been renewed discussion about private gun sales at such shows.
'Accidentally discharged'
The most casualties came at the Dixie Gun and Knife Show in Raleigh, North Carolina, where attendees bolted — with at least one woman wiping out in the frenetic scene — when gunfire rang out around 1 p.m., as seen on video captured by CNN affiliate WRAL.
Police later explained that a a 36-year-old man from Wilmington, North Carolina, was unfastening the case of his 12-gauge shotgun on a table near the show entrance when it accidentally discharged. The man planned to sell the shotgun at the show. The bird shot ended up injuring three people. One was a sheriff's deputy, who suffered a slight injury to his hand and was treated and released at a local hospital before returning immediately to work, said Joel Keith, chief of police of the North Carolina State Fair.
'Hands off my guns'
Sheriff Donnie Harrison said he was unsure whether it was legal to bring a loaded gun on state fairgrounds. However, when the state fair is held in October, it is illegal to bring a loaded gun to the fairground because of the large crowds, authorities said. Currently, federal law requires background checks on gun sales by federally licensed firearms dealers, who are often among the vendors at gun shows.
Saturday's incidents occurred on 'Gun Appreciation Day," an event led by a gun rights group that urged Americans to "go to your local gun store, gun range or gun show with your Constitution, American flags and your 'Hands off my Guns' sign to send a loud and clear message."
Are you in favor of tighter gun control laws? Why or why not?
Source: Michael Martinez and Greg Botelho, CNN
Image: News Whip