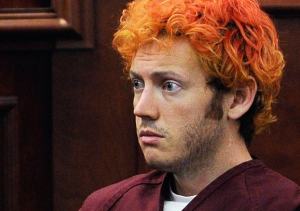 James Holmes, the suspect in the Colorado theater massacre, appeared in a Colorado courtroom on Monday, three days after one of the deadliest shooting sprees in modern American history.
Holmes, who was transported from a holding cell to the courtroom via an underground tunnel, appeared dazed. His brow furrowed. His head bobbed. His eyes opened and closed often. His hair was dyed a cartoonish orange-red. His hands and feet were shackled. He did not speak.  Seated in a jury box next to Tamara Brady, a public defender, Holmes never looked in the direction of a gallery that included victims and their advocates. His demeanor, however, angered the relatives of some of the victims of the shooting.
The preliminary hearing lasted about 11 minutes. Holmes' next court appearance is July 30, when he is expected to be charged. A decision on whether to seek the death penalty could be weeks or months away, District Attorney Carol Chambers told reporters as she entered the courthouse. Holmes could also face additional counts of aggravated assault and weapons violations stemming from the mass shooting that killed 12 and injured 58 people at an Aurora, Colo., screening of "The Dark Knight Rises."
Clad in full body armor, he surrendered to officers in a parking lot behind the cinema. Holmes did not resist arrest, but investigators have since described the former Ph.D. student at the University of Colorado-Denver medical school as uncooperative. Authorities and news reports have portrayed the native Californian as smart and shy, but no motive for the shooting spree has surfaced.
Colorado has a death penalty, but only one inmate has been executed since 1977. Three inmates are currently on death row, according to the Death Penalty Information Center.
"If James Holmes isn't executed," former Denver prosecutor Craig Silverman told Reuters, "Colorado may as well throw away its death penalty law."
In your opinion, should the Colorado Court give James Holmes the death penalty? What do you think was his motive for the shooting spree that killed 12 innocent civilians?
Image: Mirror News