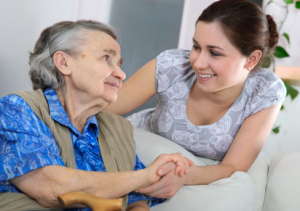 Across the United States, adult children become caregivers for aging and chronically ill loved ones. With the first of the baby boomers turning 65 in 2011, the number of Americans entering retirement age is expected to nearly double by 2030, according to the U.S. Department of Health and Human Services' Administration on Aging.
As the country braces for the prospect of providing health care to roughly 72 million adults, the impact on caregivers is coming into focus. A study released last week found that Americans caring for aging and chronically ill relatives reported higher levels of stress, poorer health and a greater tendency to engage in unhealthy behaviors to escape and alleviate stress than the population at large.
Moreover, 55% of caregivers reported feeling overwhelmed by the task at hand, according to the American Psychological Association's "Stress in America" survey, which was conducted online among 1,226 adults in the United States in August and September.
While emphasizing results among caregivers, the survey also found that 22% of Americans reported "extreme stress" and 39% said their stress had increased over the past year. That number becomes higher among caregivers, who were also more likely than the general population to report doing a poor job at managing and preventing stress, according to the survey's findings.
The report emphasizes the public health implications of high stress levels, with caregivers reporting greater rates of high cholesterol, high blood pressure, poor  nutrition, obesity and depression. Regardless of the cause, stress often results from taking on too much and not knowing when to stop or ask for help.
Source: CNN
Image: Lifelines Academy & Network