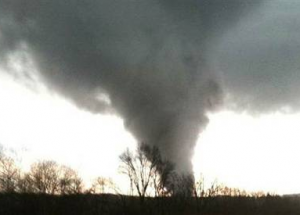 Possibly a dozen tornadoes rumbled across the Dallas-Fort Worth metro area Tuesday, leveling homes and tossing big-rigs around like toy trucks. North Texans scrambled for cover as warning sirens blared throughout the afternoon.
Some injuries, but no confirmed fatalities, were reported. Homes and businesses in at least seven counties were hit hard. By evening, the most severe storms were moving into Arkansas and Louisiana.
At the height of the storms, the National Weather Service declared Dallas-Fort Worth counties to be under a "tornado emergency." Sirens blared in downtown Dallas and Fort Worth, schools huddled children in hallways and passengers at DFW International Airport were rushed to safe areas. Amateur images of the twisters flooded social media, including baseball player Mike Napoli's video of a funnel cloud passing over the Rangers Ballpark in Arlington.
The first tornado touched down 20 miles southwest of Fort Worth as many workers were returning from lunch. From there, it seemed like watches and warnings started coming from all directions. Mayors of a few North Texas towns declared their cities to be local disaster areas.
As nightfall approached, scores of homeowners cleaned up what they could. Some scoured damaged neighborhoods for family photos and other personal items. Others were reportedly looking for missing pets. The American Red Cross was dispatched to the hardest hit areas and were seeking volunteers to help dispense aid.
Source: Yahoo News
Image: Sheepdog Report