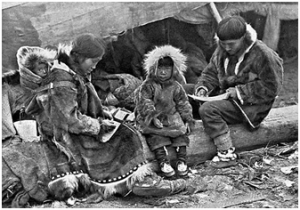 The indigenous people of Alaska have stood firm against some of the most extreme weather conditions on Earth for thousands of years. But now, flooding blamed on climate change is forcing at least one Eskimo village to move to safer ground.
The community of the tiny coastal village of Newtok voted to relocate its 340 residents to new homes 9 miles away, up the Ninglick River. The village, home to indigenous Yup'ik Eskimos, is the first of possibly scores of threatened Alaskan communities that could be abandoned.
Warming temperatures are melting coastal ice shelves and frozen sub-soils, which act as natural barriers to protect the village against summer deluges from ocean storm surges. The crisis is unique because its devastating effects creep up on communities, eating away at their infrastructure, unlike with sudden natural disasters such as wildfires, earthquakes or hurricanes.
The village crisis is taking place as more than 400 indigenous people from 80 nations gather 500 miles (800 kilometers) away in Anchorage, Alaska, at the first Indigenous Peoples' Global Summit on Climate Change. Summit delegates will work on a declaration outlining the climate change-related issues facing indigenous people. The declaration will be agreed upon Friday and presented at the Conference of Parties United Framework Convention on Climate Change in Copenhagen, Denmark, in December.
"Climigration" refers to the forced and permanent migration of communities because of severe climate change effects on essential infrastructure. This differs from migration caused by catastrophic environmental events such as hurricanes and earthquakes. The concept of "climigration" implies that there is no possibility of these communities returning home, said Alaskan human rights lawyer Robin Bronen, who coined the term.
Source: CNN.com
Image: Digitaljournal.com