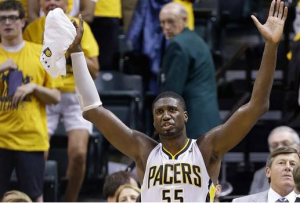 During an interview after Game 6 of the Eastern Conference Finals, a 91-77 win for the Indiana Pacers, Roy Hibbert made two controversial comments, the first being a gay slur and the second an expletive when criticizing the media. Hibbert was later fined $75,000 for his statements, per Ken Berger of CBSSports.com.
'Will not be tolerated'
Commissioner David Stern expanded on his decision to fine the former Georgetown Hoya, per Chris Mannix of Sports Illustrated:
David Stern: "While Roy has issued an apology, which is no doubt sincere, a fine is necessary… to reinforce that such offensive comments will not be tolerated by the NBA."
'Disrespectful and offensive'
Hibbert later issued an apology for his comments, via NBA.com:
I am apologizing for insensitive remarks made during the postgame press conference after our victory over Miami Saturday night. They were disrespectful and offensive and not a reflection of my personal views. I used a slang term that is not appropriate in any setting, private or public, and the language I used definitely has no place in a public forum, especially over live television. I apologize to those who I have offended, to our fans and to the Pacers' organization. I sincerely have deep regret over my choice of words last night.
Hibbert has been sensational against the Miami Heat, topping 20 points in each of his past five games (19 in Game 1). More importantly, he has protected the rim with supreme efficiency, keeping the likes of LeBron James and Dwyane Wade out of the paint.
Are you a fan of the Indiana Pacers? What do you think of Roy Hibber's controversial postgame remarks — tolerable or unforgivable?
Source: Maxwell Ogden, Bleacher Report
Image: CBC Sports