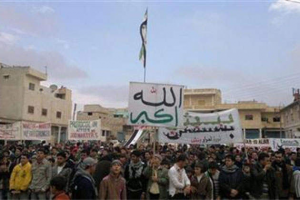 Syria has extended the Arab League monitors' mission for one month, Foreign Ministry spokesman Jihad Makdessi told CNN Tuesday.
This comes after the league voted Sunday to extend the mission. Syrian media quoted the Foreign Ministry as saying the mission will last until February 22. Foreign Minister Walid Moallem sent a letter to Arab League Secretary-General Nabil el-Araby notifying him of Syria's agreement to the extension.
The six nations from the Gulf Cooperation Council withdrew their observers because of continuing bloodshed in Syria and the government's "lack of commitment" to adhere fully to the plan it agreed to with the Arab League. The bloc includes Saudi Arabia, Kuwait, the United Arab Emirates, Qatar, Bahrain and Oman. Saudi Arabia decided to pull out its monitors Sunday and the other countries followed Tuesday.
A draft U.N. resolution on Syria obtained Tuesday by CNN calls on "all states" to take steps similar to those taken by the Arab League last November, when it imposed sanctions on Syrian authorities. The 22-member Arab League has called on Syrian President Bashar al-Assad's regime to stop violence against civilians, to free political detainees, to remove tanks and weapons from cities, and to allow outsiders — including the international news media — to travel freely in Syria.
El-Araby and Qatari Prime Minister Sheikh Jasem Al Hamad sent a letter to the United Nations Tuesday requesting a meeting with Secretary-General Ban Ki-moon on the league's proposed national unity government for Syria, according to an Arab League official. The official asked not to be named because he is not authorized to speak with the media.
Source: CNN
Image: IBN Live