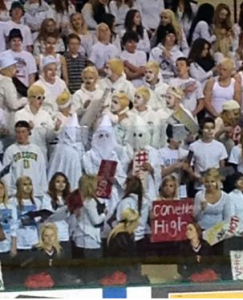 The student body of a high school in North Dakota is under fire after a photo emerged depicting three students wearing Ku Klux Klan hoods at a boys hockey game.
'Misguided attempt'
As first reported by the Grand Forks Herald, and followed upon by the Associated Press, three students at North Forks (N.D.) Red River High were captured on film wearing Ku Klux Klan hoods during a state semifinal boys hockey game against Fargo (N.D.) Davies High. The KKK hoods were apparently a misguided attempt to highlight the Red River fans' whiteout at the University of North Dakota's Ralph Englestad Arena.
Yet the actions were particularly caustic given the namesake of Davies High: Ronald Davies, a former U.S. judge based in Fargo who forced the governor of Arkansas to back down from his attempt to interfere with the famous integration of Little Rock schools.
'Inappropriate costumes'
According to the Herald, Red River principal Kris Arason has already identified the teens who donned the hoods, reaching out to their parents and telling the press that "appropriate action is being taken."
While no one has defended the unnamed teenagers who put on the inappropriate costumes, some Red River students did point out that the three students in question were all freshmen and allegedly removed the hoods within a minute as soon as other Red River students surrounding them castigated the freshmen for wearing them.
Do you consider the three students' action justifiable, or inexcusable? Tell us your insights about this issue via the comment box below!
Source: Cameron Smith, Yahoo Sports
Image: The Hollywood Gossip