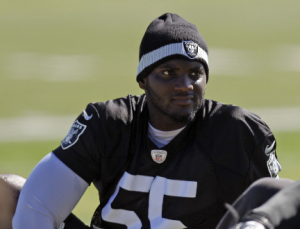 Baltimore Ravens inside linebacker and former first-round draft pick Rolando McClain is retiring from the NFL at the very young age of 23.
'Arrested for the third time'
Staff writer Ryan Mink broke the surprising news on the team's official on Wednesday. McClain reportedly told Ravens general manager Ozzie Newsome that he planned to retire, and Newsome subsequently placed him on the reserve/retired list on Wednesday.
In January, McClain was arrested for the third time in 16 months. He was then waived by the Oakland Raiders in April—the team that selected him with the No. 8 overall pick in the 2010 draft.
'Did not live up to the hype'
After signing a one-year contract with Baltimore this offseason, it appeared McClain was getting a golden opportunity to get his career back on track. However, the off-field incidents continued, as McClain was again arrested for disorderly conduct and resisting arrest in Decatur, Ala.
Throughout his brief career, the ex-Alabama Crimson Tide star simply did not live up to the hype. 2011 was easily McClain's best campaign, as he racked up 99 total tackles, five sacks and defended 14 passes.
Is retiring the right move for Rolando McClain at this point? Do you think he has no chance of redemption in the NFL?
Source: Matt Fitzgerald. Bleacher Report
Image: Faithful News