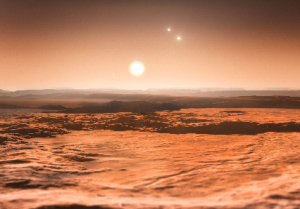 Astronomers announced that they've identified a star system with up to seven planets — three of which could potentially host life — 22 light-years away.
'Habitable zone'
The likelihood that conditions could support life on at least one of those planets, given that there are three terrestrial-mass planets in the habitable zone of one system, is "tremendous," according to at least one scientist. The "habitable zone" is the area near a star in which a planet can theoretically hold liquid water. In our own solar system, Venus is close to the inner edge of potential habitability, while Mars is closer to the outer edge.
The discovery is the largest number of "habitable zone" planets ever found within a single system, said Guillem Anglada-Escude of the University of Gottingen, Germany, who led the team of astronomers. The findings were published Wednesday in the journal Astronomy & Astrophysics. The findings are only the latest in a recent string of identifications of planets that may host life.
'More exciting discoveries'
The three planets orbit a star called Gliese 667C, part of the triple-star system Gliese 667. They are between four and eight times the mass of the Earth, making them "super-Earths." The planets are likely either rocky or water worlds, meaning they're entirely covered in water. These particular planets also appear to be "tidally locked," meaning the same side of a planet is always facing a star. That means one side of the planet always gets light and the other hemisphere is always in darkness.
Because they are so far away, the composition of the atmospheres of all of these planets outside our solar system remains unknown. Whether life truly roams or swims out there is still to be seen. Still, Anglada-Escude says the existence of star systems packed with potentially habitable planets, and the diversity of planets that Kepler has found, suggest there are more exciting discoveries yet to come.
Do you think the astronomers are very close to finding another planet that is truly habitable for us? Feel free to share your speculations with us!
Source: Elizabeth Landau | CNN
Image: Sci Tech Daily