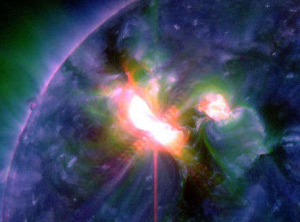 The sun unleashed a cosmic double whammy Tuesday (March 6), erupting with two major flares to cap a busy day of powerful solar storms. One of the flares is the most powerful solar eruption of the year, so far.
Both of the huge flares ranked as X-class storms, the strongest type of solar flares the sun can have. They followed several weaker, but still powerful, sun storms on Tuesday and came just days after another major solar flare on Sunday night.
The first big solar storm was also the most powerful one, ranking as an X5.4-class flare after erupting at 7:02 p.m. EST (0002 March 7 GMT), according to an alert from the Space Weather Prediction Center operated by the National Weather Service. It is the strongest solar flare yet for 2012. The second event occurred just over an hour later, reaching a maximum strength of X1.3.
According to astronomer Tony Phillips, the big X5.4 solar flare erupted from the giant active sunspot AR1429, which was also responsible for the major sun storm on Sunday.
When aimed directly at Earth, X-class solar flares can endanger astronauts and satellites in orbit, interfere with satellite communications and damage power grids on Earth. They can also amplify the Earth's display of northern and southern lights, also known as auroras. Charged particles from the solar storms can interact with Earth's upper atmosphere, resulting in a glow that is typically visible to observers at high northern or southern latitudes.
Source: Yahoo News
Image: Space Weather