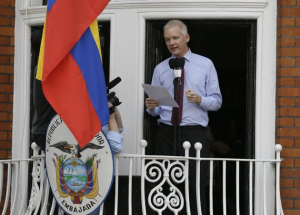 Julian Assange has urged the US to end its "witch-hunt" against Wikileaks, in his first public statement since entering Ecuador's London embassy. He also called for the release of Bradley Manning, who is awaiting trial in the US accused of leaking classified documents to the Wikileaks site.
Mr Assange spoke from a balcony at the embassy and thanked Ecuador's president, who has granted him asylum. He faces extradition to Sweden over sexual assault claims, which he denies. The 41-year-old said the United States must also stop its "war on whistleblowers".
The US is carrying out an investigation into Wikileaks, which has published a mass of leaked diplomatic cables, embarrassing several governments and international businesses. Alleged Wikileaks source Bradley Manning, 24, an intelligence analyst in the American army who served in Iraq, is alleged to have leaked US government cables to the whistle-blowing website. He is set to face a court martial. In an interview for US television in 2010, Mr Assange denied any knowledge of Pte Manning.
It is an established international convention that local police and security forces are not permitted to enter an embassy, unless they have the express permission of the ambassador. The Foreign Office has said it remained committed to reaching a "negotiated solution" but following its obligations under the Extradition Act, it would arrest Mr Assange if he left the embassy.
In 2010, two female ex-Wikileaks volunteers accused Mr Assange, an Australian citizen, of committing sexual offences against them while he was in Stockholm to give a lecture. Mr Assange claims the sex was consensual and the allegations are politically motivated.
How long do you think can Julian Assange remain in Ecuador's London Embassy? What is your view regarding the accusations against him and the US' investigation into Wikileaks? Share your thoughts and opinions with us through the comment box below!
Source: BBC News