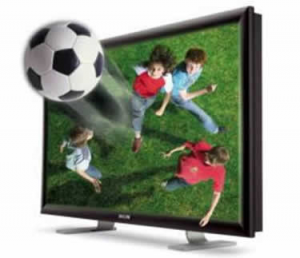 Where is 3-D now? It's certainly not showing up big on our CES 2012 radar, and now looks like over-hyped technology in hindsight — especially to those of us who always thought 3-D's natural home was in the movie theater, not the living room.
Indeed, a variety of obstacles — high prices, a lack of 3-D content, and uncomfortable viewing experiences — have kept 3-D TV adoption in the single digits nationwide. Manufacturers and content providers are working to address these issues, but one has to wonder if 3-D was nothing but a flash in the CES pan — a technology story rather than anything consumers actually wanted.
After "Avatar," a string of unsuccessful, rushed-to-market 3-D flicks — we're looking at you, "Clash of the Titans" — zoomed to theaters hoping to cash in on the craze. Since then, better-quality 3-D films like "Tron: Legacy," and, more recently, "Tin Tin" and "Hugo," have tried to improve 3-D's image. Meanwhile, small-screen content providers have branched out to provide live and on-demand 3-D offerings.
Whatever the reason for purchase, the most recent studies indicate consumers are slowly warming up to 3-D. As prices come down, more content becomes available, and 3-D glasses improve (or are replaced by glasses-free technology), 3-D TV adoption will only increase. Whether we reach the near 50% adoption rates that have been projected for 2014 and 2015 is yet to be seen. But whether you like it or not, 3-D does not appear to be in its death throes just yet.
Source: CNN
Image: Digital Nerds