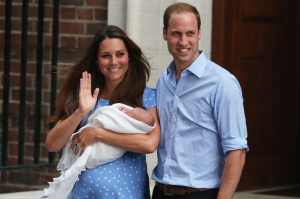 The Duke and Duchess of Cambridge have emerged from St Mary's Hospital in west London with their new baby son. Walking out to cheers from staff and well-wishers, Kate cradled her son and said it was "a special time". Prince William said they were "still working on a name".
'Very emotional'
A small crowd had gathered outside the palace to greet them. Speaking to reporters outside the hospital earlier, the couple both said the experience was "very emotional". Kate handed their baby, who was wrapped in a white shawl, over to her husband and the couple walked forward to speak to reporters. They also revealed William had done the first nappy change.
Prince William was at the hospital for the birth at 16:24 BST on Monday, and stayed with his wife and son, who weighed 8lb 6oz (3.8kg), overnight.
'Third in line to the throne'
Meanwhile, the birth of the third in line to the throne was marked by gun salutes at Green Park and the Tower of London and the ringing of bells at Westminster Abbey. And at Buckingham Palace, royal watchers and tourists queued in the rain to catch a glimpse of the bulletin – displayed on an easel – announcing the arrival of the royal baby.
The birth of the prince means the monarchy has three generations of heirs to the throne for the first time since 1894.
What name do you think will Prince William and Kate choose for the baby prince? And which parent will he take after — his mom or his dad? Feel free to share your thoughts and well wishes via the comment box below!
Source: BBC News
Image: Mirror