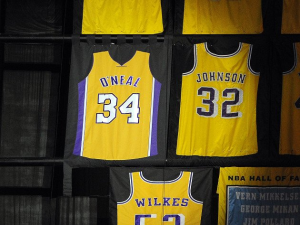 The Los Angeles Lakers retired Shaquille O'Neal's No. 34 jersey at halftime of the Lakers' 101-81 win over the Dallas Mavericks, and everything went according to plan. Except that Shaq's jersey was all wrong.
'Gone according to plan'
For the most part, it was a fun and enjoyable evening. Phil Jackson talked about Shaq showing up at practice naked, Jeanie Buss gave a formulaic, but heartfelt, speech to the big dude, and Kobe Bryant even gave a thumbs-up to The Big Aristotle.
Everything had gone according to plan. The only problem was that the jersey was backward. Shaq's name was spelled out fine, the number was right, but the number and name were plastered across the front of the jersey, not the back.
'Painfully obvious'
Among the other handful of jerseys up on the wall it becomes painfully obvious. All the other jerseys hang with the swoop-necked back facing the crowd, while Shaq's displays the V-necked front toward the crowd.
It was never discovered that anything was wrong until the Internet got hold of the picture, and the people in the know were eventually alerted and are already planning to fix it.
Are you a Shaquille O'Neal fan? Should they just leave his backward jersey as it is or fix the mistake?
Source: Jesse Dorsey, Bleacher Report
Image: Yahoo Sports