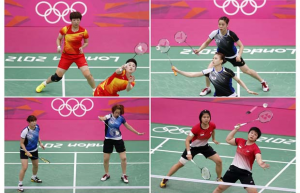 Eight female badminton players were disqualified from the Olympics on Wednesday for trying to lose matches the day before, the Badminton World Federation announced after a disciplinary hearing.
The players from China, South Korea and Indonesia were accused of playing to lose so they could face easier opponents in future matches, drawing boos from spectators and warnings from match officials Tuesday night. All four pairs of players were charged with not doing their best to win a match and abusing or demeaning the sport.
The charges result from two lackluster contests in London that angered the watching crowds as the doubles pairs appeared to be serving into the net on purpose. The eight players concerned had all already qualified for the quarterfinals of the tournament before the final matches of the group stage Tuesday night. The disqualifications mean the world's No. 1 pair, Wang Xiaoli and Yu Yang of China, are out of the competition.
In the first of the Tuesday matches under scrutiny, Wang and Yu played South Korea's Jung Kyung-eun and Kim Ha-na in a game in which "neither side seemed to be exerting themselves," the official Olympic news service said. The South Koreans eventually won the "repeatedly interrupted match," securing first place in their group, according to the news service. But that puts them in the same side of the draw as Tian Qing and Zhao Yunlei, a Chinese duo who are ranked No. 2 in the world. The second match in question took place about an hour later, pitting South Korea's Ha Jung-eun and Kim Min-jung against the Indonesians Meiliana Jauhari and Greysia Polii.
The Chinese Olympic delegation "fully respects the Badminton World Federation's decision to punish" its athletes, it said in a statement. The head coach of the Chinese badminton team, Li Yongbo, expressed contrition for what had happened.
Do you agree with the Badminton World Federation's decision to disqualify all four pairs from the Olympic badminton games? Who is to blame for this bizarre scandal?
Source: CNN
Image: Ottawa Citizen