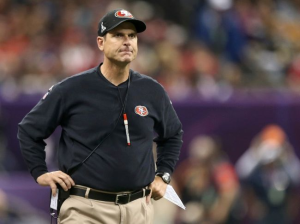 San Francisco 49ers head coach Jim Harbaugh was understandably unhappy after losing Super Bowl XLVII by the agonizing score of 34-31. Losing to his older brother, as he did to brother John, had to put a little more salt in the wound.
'Pass interference'
"You know, I really want to handle this with class and grace, and we had several opportunities in this game," Harbaugh said just a few minutes after the game ended. "We didn't play our best game, and the Ravens made a lot of plays and battled back. They competed to win. But there's no question in my mind that it was a pass interference, and hold on [Michael] Crabtree on the last one."
The play Harbaugh was talking about happened with 1:50 left in the game. The 49ers had fourth-and-goal at the Baltimore five-yard line, and after two incompletions to receiver Michael Crabtree, Kaepernick put the ball up again in Crabtree's direction. It certainly looked on the play that Ravens cornerback Jimmy Smith held Crabtree's jersey long enough for a flag to be thrown, but no flag was forthcoming.
'Questionable'
With 8:35 left in the game, and the Ravens up 31-29, cornerback Chris Culliver was called for pass interference on a Joe Flacco pass to Torrey Smith from the Baltimore 22-yard line. That foul, which did seem questionable on its face, took the Ravens from third-and-9 at the 22 to first-and-10 at the Baltimore 36-yard line. Culliver was toasted through most of the game.
Two plays later, after a two-yard run by Bernard Pierce, Flacco threw a short pass to Anquan Boldin and the officials gave Boldin what seemed like a generous spot. Harbaugh chose to challenge the spot, and it was overturned on review.
Did you watch the Super Bowl match between the 49ers and the Ravens? Do you agree or disagree with Jim Harbaugh's statement about a pass interference?
Source: Doug Farrar, Yahoo Sports
Image: Toronto Sun