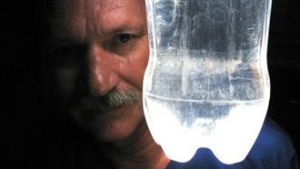 In 2002, the Brazilian mechanic Alfredo Moser had a light-bulb moment and came up with a way of illuminating his house during the day without electricity – using nothing more than plastic bottles filled with water and a tiny bit of bleach. So how does it work? Simple refraction of sunlight, explains Moser.
'Moser lamp'
"Add two capfuls of bleach to protect the water so it doesn't turn green [with algae]. The cleaner the bottle, the better," he adds. "You fix the bottle in with polyester resin. Even when it rains, the roof never leaks – not one drop… An engineer came and measured the light," he says. "It depends on how strong the sun is but it's more or less 40 to 60 watts," he says.
The inspiration for the "Moser lamp" came to him during one of the country's frequent electricity blackouts in 2002. Moser and his friends began to wonder how they would raise the alarm, in case of an emergency, such as a small plane coming down, imagining a situation in which they had no matches.
'Great sense of pride'
Soon he had developed the lamp. Moser has installed the bottle lamps in neighbours' houses and the local supermarket. While he does earn a few dollars installing them, it's obvious from his simple house and his 1974 car that his invention hasn't made him wealthy. What it has given him is a great sense of pride.
Illac Angelo Diaz, executive director of the MyShelter Foundation in the Philippines that specialises in alternative construction, started making the lamps in June 2011. They now train people to create and install the bottles, in order to earn a small income. In the Philippines, where a quarter of the population lives below the poverty line, and electricity is unusually expensive, the idea has really taken off, with Moser lamps now fitted in 140,000 homes.  The idea has also caught on in about 15 other countries, from India and Bangladesh, to Tanzania, Argentina and Fiji.
Do you find this bottle light invention amazing? Feel free to share your feedback with us!
Source: Gibby Zobel | BBC News
Image: 24 WPO