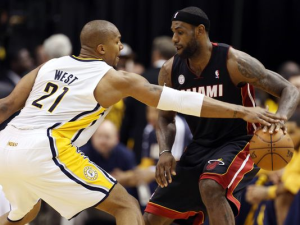 He who flopped inbof the NBA's Eastern Conference finals shall be fined accordingly. LeBron James, David West and Lance Stephenson are going to pay dearly for their involvement in the flop fest that took place between the Miami Heat and Indiana Pacers on Tuesday, May 28.
'Guilty'
Well, not dearly—at least not by NBA standards. The Association has, however, fined each of them $5,000 for violating the league's flopping policy.
When pressed by reporters before Game 5 on whether he was guilty of the fine-inducing infraction, James decided to snag a page out of Drew Rosenhaus' guide to media relations:
Howard Beck @HowardBeckNYT
LeBron on flopping fine: "It is what it is." Asked if he'd earned it: "Did I earn it? Man, quit it. Next question."
The sanction comes down after it was announced the league would also be reviewing the many controversial calls that were made in the latter half of the same game.
'Banned acts'
For those who may be unaware, the NBA took a page out of the soccer playbook this season and outlawed flopping. Here's how the NBA defines the banned acts:
"Flopping" is defined as any physical act that appears to have been intended to cause the referees to call a foul on another player. The primary factor in determining whether a player committed a flop is whether his physical reaction to contact with another player is inconsistent with what would reasonably be expected given the force or direction of the contact.
Not one of the fines from Game 4 is undeserved.
Did you watch the flop fest that took place during Game 4 of the NBA's Eastern Conference? Who do you think deserved — or did NOT deserve — to be fined for flopping?
Source: Dan Favale, Bleacher Report
Image: USA Today