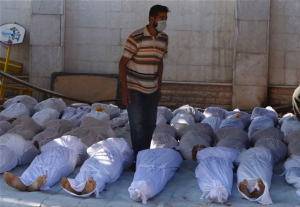 Chemical weapons attacks have killed hundreds on the outskirts of Damascus, Syrian opposition activists say. Rockets with toxic agents were launched at the suburbs of the Ghouta region early on Wednesday as part of a major bombardment on rebel forces, they say. The main opposition alliance said that more than 1,000 people were killed by the attacks.
'Suffocation'
The United Nations Security Council said it was necessary to clarify what happened in the alleged attack, but stopped short of demanding an investigation by a UN team currently in Damascus, following an emergency meeting on Wednesday evening.
Video footage showed dozens of bodies with no visible signs of injuries, including small children, laid out on the floor of a clinic. Ghazwan Bwidany, a doctor treating the injured, told the BBC the main symptom, especially among children, was suffocation, as well as salivating and blurred vision.
"We don't have the capability to treat all this number of people," he said. "We're putting them in mosques, in schools. We are lacking medical supplies now, especially atropine, which is the antidote for chemical weapons."
'Red line'
In a statement, the army described the accusations of chemical weapons use as grave, and stressed the military's right to fight what it described as terrorism in Syria. It accused the opposition of fabricating the accusations to divert attention from the huge losses its forces had suffered recently.
The alleged attack comes a year after US President Barack Obama warned the Syrian government that using chemical weapons would cross a "red line".
Who do you think is behind this gas attack in Syria? Will this incident result in war soon?
Source: BBC News
Image: The Telegraph