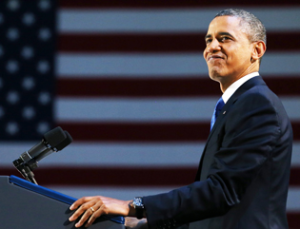 Barack Obama has advanced to his highest personal popularity since his first year in office, and Americans who've formed an opinion of his second inaugural address last week broadly approve of it, the latest ABC News/Washington Post poll finds.
'Favorable opinion'
Sixty percent of Americans now express a favorable opinion of Obama overall, up 10 points since last summer, in the heat of the presidential race. His popularity peaked at a remarkable 79 percent days before he took office four years ago, and last saw the 60s in November 2009.
Favorability – which differs from job approval – is the most basic rating of a public figure's personal popularity. Obama's exceeds Bush's at the start of his second term by 5 percentage points, but trails Clinton's by 5 and Reagan's by 12. Intensity of sentiment is a plus for Obama: More have a "strongly" favorable opinion of him than a strongly unfavorable one, 39 vs. 26 percent, and twice as many strongly approve of his inaugural speech as disapprove. It's the first time he's been significantly more strongly popular than unpopular since early 2010.
'Hit home'
The president's inaugural speech – peppered with messages appealing to his core supporters – hit home with broad majorities of Democrats, liberals and nonwhites, as well as majorities of young adults, women, moderates and lower- to middle-income Americans. Though not majorities, significantly more approve than disapprove of Obama's address among a variety of other groups, including political independents. Whites and "somewhat" conservatives split more evenly, while "very" conservatives and Republicans disapprove by wide margins.
METHODOLOGY – This ABC News/Washington Post poll was conducted by landline and cell phone Jan. 23-27, 2013, among a random national sample of 1,022 adults. Results have a margin of sampling error of 3.5 points. The survey was produced for ABC News by Langer Research Associates of New York, N.Y., with sampling, data collection and tabulation by SSRS/Social Science Research Solutions of Media, Pa.
How about you — do you favor Obama or not? Feel free to express your opinion regarding the result of this recent poll!
Source: Greg Holyk, ABC Otus News, Yahoo News
Image: Zap 2 It