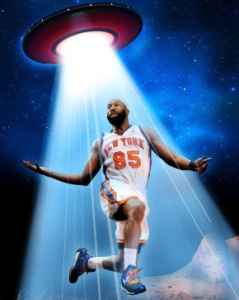 Aliens once stole Baron Davis for a brief examination. At least, that is what the former NBA star had to say in an interview with Neal Brennan and Moshe Kasher for The Champs podcast, via Deadspin.
'Crazy looking people'
Davis states that he was driving back from Las Vegas when he saw a bright light and was suddenly being poked and prodded by these "crazy looking people," which probably doesn't go over well with his former hosts. Finally, he realizes he is in Montebello, California, not knowing why he is there, which is precisely the feeling anyone has when driving through Montebello.  Thankfully, there was an In-N-Out nearby to calm his nerves.
Now, as Yahoo! Sports notes, he does temper the story a bit:
Eventually, Baron backed off his "abduction" stance, but only because that sounds like too pejorative a phrase.

"I don't think it was an abduction, dude — I think that they were, like … because now, like, I come back and, like, I'm, like, sharper and [expletive], you know what I mean?" Davis said. "Like, I'm retaining information."
'Fallen asleep'
While I am sure all of us believe Davis was no doubt beamed into space or some other dimension, there is a tiny part of me that thinks he may have just fallen asleep, which is just as scary considering the dark and windy roads. But let's ditch the speculation, because buying into the story wholeheartedly is far more fun.
If movies like Independence Day taught us anything, it's that aliens come here looking to study our weaknesses—like NBA stars breaking down game tape.
Do you believe in aliens? What can you say about Baron Davis' alien abduction story?
Source: Gabe Zaldivar | Bleacher Report
Image: Guardian Express