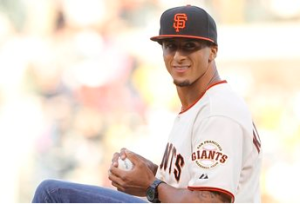 San Francisco 49ers quarterback Colin Kaepernick was at AT&T Park on Friday to throw out the first pitch for the San Francisco Giants' contest against the Miami Marlins. On almost all occasions, an athlete throwing out a first pitch (and doing so well) wouldn't be newsworthy.
'Not wearing any gear'
Colin Kaepernick isn't most athletes. Winding up with a cool, collected motion that has to be familiar to 49ers fans, Kaepernick tossed in one of the fastest first pitches you'll ever see. According to the 49ers' Twitter page and Kaepernick, the 25-year-old signal-caller's throw came in at a whopping 87 miles per hour. Sergio Romo, not wearing any gear at the time, was the recipient of the toss.
'Never really looked back'
For those who have followed Kaepernick's journey to the top of the 49ers' depth chart, seeing him toss a heater isn't a surprise. The NFC champion quarterback, who spent his collegiate days under center at Nevada, was actually more highly touted as a baseball prospect in high school than he was as a football prospect.
Instead of sticking with baseball, though, Kaepernick went to Nevada, and the rest is history. Following his dream led him to become one of the most decorated quarterbacks in that school's history and eventually took him all the way to Super Bowl XLVII as San Francisco's starting quarterback. In fact, it is now quite clear that Kaepernick never really looked back after giving up baseball.
What can you say about Colin Kaepernick's 87-mph first pitch? Impressive or not?
Source: Tyler Conway | Bleacher Report
Image: SB Nation