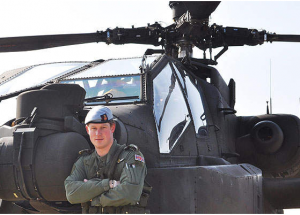 Prince Harry has qualified as an Apache helicopter pilot after 18 months of rigorous training in the UK and the US, the Ministry of Defence has said.
The third in line to the throne was awarded a prize for best co-pilot gunner at a dinner on Wednesday at his RAF training base in Ipswich, Suffolk. He and 20 others who graduated now have limited "combat-ready status".
Previously, the prince has hinted of his wish to return to Afghanistan after his first tour of duty was cut short. Last April, he suggested it would be pointless to train as a helicopter pilot if he never served. In 2007-8, Harry served 10 weeks in southern Afghanistan as a forward air controller, directing planes dropping bombs on Taliban positions in Helmand province. However, that ended abruptly when foreign websites broke a media blackout on reporting his deployment.
Harry – known to his fellow soldiers as Captain Wales – will now gain more experience of flying Apaches with 662 Squadron, 3 Regiment Army Air Corps. Apaches, designed to hunt and destroy tanks, are used in Afghanistan and were deployed in Libya last year. During the dinner at RAF Wattisham, Apache Force Commander Col Neale Moss congratulated the new pilots, describing the training as "extremely challenging".
Eight weeks of the prince's training were spent in California and Arizona, carrying out exercises designed to prepare pilots for action in Afghanistan.
Source: BBC News
Image: The Sun