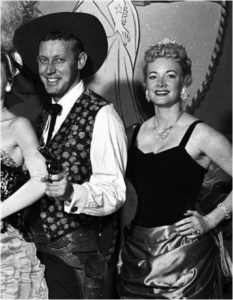 In one of the most bizarre but romantic stories this year, two Disney stars from the golden age died within a day of each other after spending almost 30 years sharing a stage together. Wally Boag, who played the part of Pecos Bill in Disney's Golden Horseshoe Revue, passed away Saturday, while his onstage romantic interest, Betty Taylor, who played the part of Slue Foot Sue in the revue, coincidentally passed away after just a day later.
Taylor was 91 years old when she passed away in her home in Washington State, and in another coincidence, Boag was 90 years old when he died in his home in Santa Monica, California. Despite Disneyland announcing the death of Taylor, there was no information about the cause of death for either one of them. There were attempts to contact their relatives, although there were no comments from them.
"Betty's role as leading lady in Disneyland's Golden Horseshoe Revue helped turn it into the longest-running stage show in entertainment history," said George Kalogridis, the president of Disneyland Resort, in a statement. `'It is a tragic coincidence that her passing comes just one day after the death of longtime co-star Wally Boag."
Boag was a former vaudeville performer and started to work for Disney when he signed a two week contract in 1955. That two week contract blossomed into the birth of his character Pecos Bill and he continued to reprise his role, performing three times a day until his retirement in 1982. By Disney's account, he had more than 40,000 performances on stage before retiring. Taylor joined the Revue just a year after Boag and continued to perform until her own retirement in 1986 with over 45,000 shows.
Kalogridis also had shared his feelings about Boag "Wally was instrumental in the development of live entertainment during the early years of both Disneyland Park and Walt Disney World Resort," said Kalogridis. "His characters will continue to live in the hearts of our guests, while his larger-than-life personality will forever make him the true Clown Prince of Disneyland."
Disneyland's Golden Horseshoe Revue holds the Guinness Book of Records for the longest running stage production in the history of show business. Boag's comedic style and humor inspired a generation of performers and comedians, including actor/comedian Steve Martin. Martin called Boag a hero and one of the biggest influences in his career as a comic. After hearing the passing of Boag, Martin tweeted that he was "the first comedian I ever saw live, (he was) my influence, a man to whom I aspired."