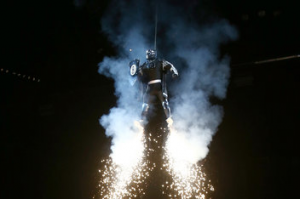 If there one word that can be associated with the Brooklyn Nets, it's "cool." The black and white uniforms, Jay-Z and Brooklyn itself all scream "hip." Well, it looks like the Nets might have just lost some of their cool credibility. On Saturday the team unveiled the NBA's first superhero mascot, a masked marvel named "BrooklyKnight."
'Ruler of Barclays Center'
A press release deemed BrooklyKnight the "protector of Brooklyn's hometown team, defender of New York's largest and most courageous borough, and ruler of Barclays Center." The Nets also worked with Marvel on a new comic book, BrooklyKnight #1, which chronicles the exploits of Brooklyn's mascot.
'Upgrade from Sly the Fox'
While some, like Nets center and comic book enthusiast Brook Lopez may have been impressed with BrooklyKnight, others were left shaking their heads. Will Leitch of New York Magazine called the mascot "a walking nightmare" and "irredeemably lame." In Brooklyn's defense, anything is an upgrade from Sly the Fox.
Do you think the Brooklyn  Nets' new "BrooklyKnight" mascot is cool or a major flop? Would you prefer Sly the Fox to retain the role of the Nets' official mascot? Feel free to share your comments and opinions with us through the comment box below!
Source: Yahoo Sports
Image: Nets Daily