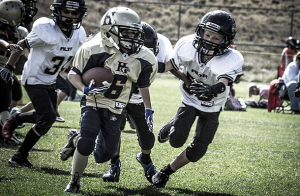 It started as a way for an 8-year-old girl to keep up with her big brother. Sam Gordon just wanted to run with the older kids. The coaches in the local tackle football league figured, hey, why not? Maybe they could turn it into a drill: Who can outrun Max's little sister? They were shocked to find the answer: no one.
'Like a college football player'
Sam Gordon, now 9, became one of the fastest kids this Salt Lake City area "Gremlins" league had ever seen. They put her in drills and she outran boys two years older. They allowed her into the "Sharks and Minnows" game and stared in awe at not only at her speed, but her ability to move like a tailback.
"She could cut and follow blocks like a college football player," says her coach, Chris Staib.
Sam ended up running for 25 touchdowns and 10 conversions (no PATs at this level) in her first season playing tackle football. She earned the nickname "Sweet Feet" – a modern-day Rudy Huxtable – and a breathtaking viral video in which she looks so fast that you have to wonder if it's real.
'Loves to tackle'
This is a 9-year-old girl playing against bigger, stronger boys. She even had a trainer who put her through agility drills and plyometrics. Gordon is not even 60 pounds, and there's a kid on her team who weighs more than 150. (His nickname: Tank.) Staib doesn't hesitate when asked about the hitting. He says Sam loves to tackle and even goes after Tank whenever she gets the chance.
A lot of people won't accept a 9-year-old girl playing tackle football, and perhaps with good reason. But it seems Sam loves it. Her dad and coach say she has no hesitation about coming back for another season.
Were you impressed with Sam Gordon's football skills? Tell us what you think of this girl's incredible ability in the field!
Image: The RX Forum