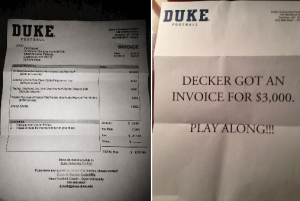 Peyton Manning, Eric Decker and other members of the Denver Broncos football team came to Duke University in Durham, N.C. Wednesday to do a little offseason training. The trip concluded with a dinner among teammates, where Manning handed Decker a fake invoice for over $3,000 in fees from the Duke facilities.
'Play along'
Peyton printed the truth of the situation on other notes so the other players at dinner would "play along."
After presumably staring in disbelief at the invoice for a good minute or so, Decker figured out the ruse and tweeted out a picture of the rather official-looking fake invoice.
'Ridiculous tax rate'
While the officious-looking bill first appears to be legit, apparently it's been a while since Manning has done addition away from his 10 fingers. The miscalculated subtotal amount tallied on the right gives the prank away, as the amount for services rendered before tax adds up to $100 less than it should.
Decker admitted he never noticed the mistake while studying the bill, saying he was thrown off by the ridiculous tax rate and absurd facility fees. Luckily for Decker, the imaginary bill was just Peyton's way of ending training on a humorous note.
What can you say about Peyton Manning's ridiculous prank? Yay or nay?
Source: Dan Carson, Bleacher Report
Image: Black Sports Online