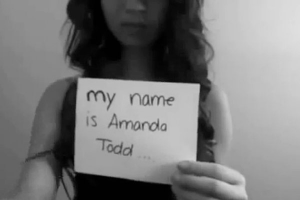 In the soundless, black and white YouTube video, Canadian teen Amanda Todd showed  a stack of cards each filled with messages in black marker. Each card painfully sinking the viewer deeper into the anguish too many teens have experienced.
'They wanted me to flash'
"In 7th grade I would go with friends on webcam," the card in the teen's hand read. She began to get attention on the Internet from people that she did not know. "They wanted me to flash. So I did one year later," the cards said. The teen then got a message on Facebook from a stranger who said she needed to show more of herself or he would publish the topless pictures he had taken of her. On Christmas break, the police came to her home to tell her that photos of her were sent to "everyone."
"After a month later I started talking to an old guy friend." She thought the guy liked her even though she knew he had a girlfriend. One day he asked her to come over because his girlfriend was on vacation.
'I have nobody'
A week later the guy's girlfriend showed up at her school with a posse of 15 others. A crowd gathered. The girlfriend berated her screaming that nobody liked her. She was punched. Thrown on the ground. "Teachers ran over but I just went and layed in a ditch and my dad found me."
When she got home she drank bleach. She was rushed to a hospital to flush the chemical out of her. She moved in with her mother in another city, to another school. But her past followed her. Her struggles with anxiety and cutting had gotten worse. The last cards say simply: "I have nobody. I need someone. My name is Amanda Todd." One day earlier, Amanda Todd's body was found in her home, police in the Vancouver-area city of Coquitlam said. She took her own life. Amanda was 15.
Do you know someone who went through the same agony Amada Todd did? How can we put a stop to bullying?
Source: CNN
Image: Time