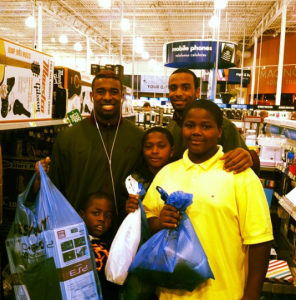 Antone Exum could have spent his $470 Best Buy gift certificate on anything he wanted. He and his Virginia Tech teammates were given the gift certificates as part of their prize packages for playing in the Russell Athletic Bowl in Orlando, and for a college student at Best Buy, there is certainly no shortage of options.
'What he didn't get'
But it's not what Exum got for himself that has made headlines. It's what he didn't get that has turned into one of the best stories of the holiday season. The junior cornerback noticed three boys playing PlayStation 3 in the store, and he decided the money would be better spent on them.
"I think I was blessed to have a lot of fortunate Christmases when I was a kid, so I hope that every little kid deserves to have a perfect Christmas," Exum told the Orlando Sentinel.
'I won't forget those smiles'
Naturally, the youngsters were thrilled. The boys got a PlayStation 3, a BlackBerry, and with the help of Exum's teammates Tariq Edwards and Marcus Davis — who chipped in some of their gift cards as well — the boys bought a few games for their new console.
"I know it was a Christmas that I won't forget," Exum said. "Because I won't forget those smiles and the excitement on their faces when I told them they could get whatever they wanted in the store."
Were you impressed with Antone Exum's generosity? Tell us about the most recent act of kindness you have done during the holidays!
Source: The Post Game
Image: NBC Sports