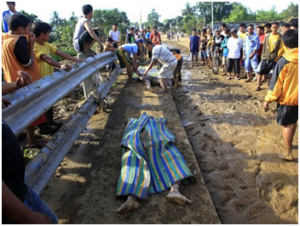 Tropical Storm Washi moved away from the southern Philippines early Monday, but not before leaving behind a wake of destruction and at least 652 people dead and more than 800 missing, according to the Philippine Red Cross. There were no public storm warnings for the East Asian island nation Monday morning, according to the Philippine Atmospheric, Geophysical and Astronomical Services Administration.
The Red Cross noted that entire villages were swept away, suggesting the death toll could rise further. Five people were killed in a landslide, but virtually all the others died in flash flooding after Tropical Storm Washi, which is called Sendong locally.
Survivors in the hardest-hit areas are contending with no electricity or clean drinking water.  Flash flooding overnight Friday — following 10 hours of rain — fueled the devastation. As much as 20 centimeters (8 inches) of rain fell within 24 hours in some areas. Overflowing rivers and tributaries compounded the disaster for low-lying areas, and officials said floodwater reached roof-level in the middle of the night.
Authorities have started distributing food rations for some 10,000 families affected by the storm, while also handing out thousands of blankets and mosquito nets, the Red Cross said. The aid agency is appealing for drinking water, food and dry clothes, and officials have asked for volunteers to pack food to send to those who have been displaced.
Benito Ramos, chairman of the national disaster council, said he thinks the event was influenced by climate change and deforestation. Ramos said the storm moved in a westward path to areas rarely hit by major storms or flooding.
Source: CNN.com
Image: Yahoo! News