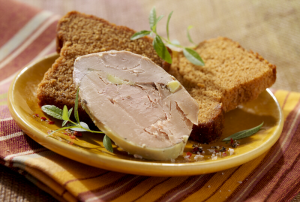 When you trace the origins of each ingredient of your food, some uncomfortable truths emerge. Join us as we check in with the 4 Cruelest Foods You Eat.
1. Lobster
These spiny guys can live as old as we do, but thanks to our appetite for lobster rolls, they usually don't. A recent study in the journal Animal Behavior showed that, contrary to previous thinking, lobsters and crab can feel pain and exhibit signs of stress. Some high-end restaurants even offer live lobster sashimi, where you choose your lobster from a tank and it appears on your plate in seconds, slit down the middle and squirming.
2. Shark-fin soup
This soup is made with fins that are sliced off sharks in open waters. The fish are then tossed back into the water, where they can drown or bleed to death. More status symbol than tasty (or nutritious), shark-fin soup is a popular gourmet treat in Asia and is abundant in restaurants across the United States, too.
3. Foie gras
Foie gras, which means "fatty liver" in French, is a silky-smooth delicacy from goose or duck that's often served in elegant, high-end restaurants. Workers restrain the birds and insert a long metal tube down its throat, through which they pump pounds of corn several times a day. After about a month of force-feeding, they're slaughtered, and their livers become your dinner.
4. Balut
Balut is a soft-boiled duck egg, where the embryo is almost fully formed–feathers, bones, and all. The egg is cracked open, the soupy liquid drunk, and the fetus dug out to eat. It's popular in the Philippines, Laos, and other Southeast Asian countries.
Do you like eating any of these delicacies? Would you consider going vegetarian? Share your thoughts on these food facts!
Image: Mem Rise