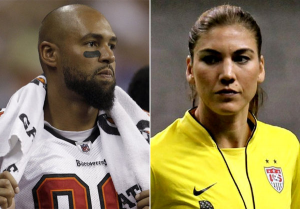 Before you read what you're about to read, keep in mind that former NFL tight end Jerramy Stevens and American soccer star Hope Solo were planning to get married today, and according to one report, they still intend to do so. Reports first came out on Tuesday afternoon from Chris Daniels of Seattle TV station KING-5, indicating that Stevens, who played in the NFL from 2002 through 2010, was arrested and charged.
'Laceration on her elbow'
A few minutes after those reports, Daniels then said that a judge in Kirkland, Wa. court found no probable cause to hold Stevens, and he was released. According to the Seattle Post-Intelligencer, Marcus Solo was the one who called Kirkland police, and when police came to the scene, he had blood on his forehead and knees, and a bruised eye. Hope solo then emerged from the house, intoxicated and with a laceration on her elbow. She did not cooperate with police and told her brother not to say anything.
'Fourth-degree assault'
When police swept the house, they found eight intoxicated people, a woman in the kitchen with a hip injury, and Stevens on the floor of an upstairs bedroom, claiming that he was sleeping, not hiding. Stevens had blood on his cheek and his shirt. He admitted that he had been arguing with Solo, and since police have to make an arrest when there is a domestic violence call, Stevens was arrested and charged with fourth-degree assault.
We're not sure how YOUR wedding day went, but it probably (hopefully) didn't look anything like this. Stevens was out of the NFL after the 2010 season, but trouble seems to follow him wherever he goes. In that sense, Tuesday's bit of insanity came as no surprise.
Do you think Hope Solo and Jerramy Stevens will have a "happily ever after" despite this domestic call? If you were in her shoes, what will you do?
Image: Los Angeles Times