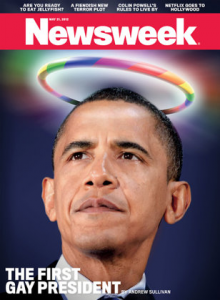 It won't be nearly as controversial as Time magazine's breastfeeding cover, but Newsweek's May 21 issue declares Barack Obama the country's "first gay president."
The accompanying cover story was written by Andrew Sullivan, the popular–and openly gay–political blogger. The magazine even gives the commander-in-chief a rainbow halo. Obama, Sullivan writes, "had to discover his black identity and then reconcile it with his white family, just as gays discover their homosexual identity and then have to reconcile it with their heterosexual family."
The full cover story is not yet online, but in a blog post published earlier this week, Sullivan wrote that Obama's support of gay marriage brought him to tears. The New Yorker, which is also out with a cover story on gay marriage, took a bit more subtle approach with its May 21 issue.
"It's a celebratory moment for our country, and that's what I tried to capture," Bob Staake, the artist behind the New Yorker cover, said. "I don't especially like those rainbow colors, but they are what they are—I had to use them… I wanted to celebrate the bravery of the President's statement—a statement long overdue—but all the more appreciated in this political year. We are on the right side of history."
What do you think of Obama's declaration of support for the gay community? Share your thoughts with us!
Source & Image: Yahoo News