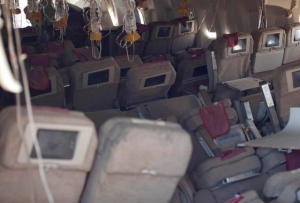 The cockpit voice recorder of Asiana Airlines Flight 214 appears to show the pilots tried to abort the landing less than two seconds before the plane crashed on the runway at San Francisco International Airport, the head of the National Transportation Safety Board said Sunday.
'Too slow and too low'
The plane's voice and flight data recorders show that the flight from South Korea was coming in too slow and too low and that the pilots appear to have increased speed seven seconds before impact, Deborah Hersman said. A stall warning sounded four seconds before the crash, and the crew then made an internal decision "to initiate a go-around 1.5 seconds to impact," she said.
'Key factor'
The NTSB's preliminary assessment of the plane's cockpit and flight data recorders appear to indicate that the flight went from a routine landing to a disaster in a matter of seconds. But when asked if pilot error was to blame, Hersman said the crash landing was still under investigation. But what happened inside the cockpit of the Boeing 777 may well be the key factor in Saturday's accident that killed two people, injured 182 and forced the temporary closure of one of the country's largest airports.
South Korean and NTSB investigators will jointly question Lee Kang-gook, the pilot who was sitting in the captain's seat of Asiana Flight 214, on Monday, Choi Jeong-ho, the head of South Korean's Aviation Policy Bureau, said. Lee was making his first landing with a Boeing 777 at San Francisco International Airport, the airline said. But it wasn't his first time flying to San Francisco.
Was this crash the pilot's fault? Feel free to discuss your opinion with us via the comment box below!
Source: Chelsea J. Carter and Mike M. Ahlers | CNN
Image: NY Daily News