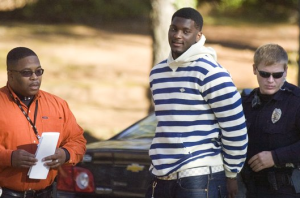 NFL linebacker Rolando McClain can't keep himself out of trouble.  WHNT news passes along that the Decatur, Ala., police confirmed that the Baltimore Raven was arrested and charged with disorderly conduct.
'Not receptive to the order'
The alleged incident took place at Pines Park. As WHNT explains, according to information from eyewitnesses, officers ordered McClain and several others to leave the park when a large crowd was gathering. McClain was not receptive to the order. He reportedly refused while using some expletives. He was handcuffed and transported to jail before being bonded out.
This, of course, is not the first time McClain has found himself in a bit of legal hot water.  In 2011, he made headlines when he was arrested, and eventually convicted, for assault and other charges "when he allegedly threatened to kill a man and fired a gun next to his head."
'Trying to salvage his NFL career'
He was arrested again this past January after he was pulled over for his window tinting. He had some more colorful language for the authorities when signing the ticket, which got him in trouble for providing a false name. All three of those arrests have come at the hands of the Decatur police.
The former No. 8 overall selection is a player who is trying to salvage his NFL career after being released by the Raiders earlier this offseason.
Should the Ravens cut him out of the team now? Anybody else got the feeling that this won't be the last time that Rolando McClain gets himself in trouble?
Source: Richard Langford, Bleacher Report
Image: Section B