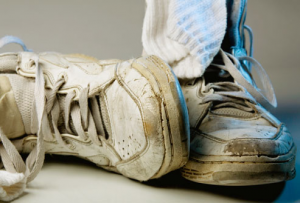 Everybody loves a hero. So, when the Internet was flooded with the picture of Officer Larry DePrimo buying homeless man Jeffrey Hillman a new pair of boots, everybody was filled with hope for humanity. However, that bearded homeless is once again barefoot, and his story turns out to be much more complicated that it seemed.
'Long-term attention and help'
Hillman apparently owns an apartment but chooses to stay on the streets. Even though he has veterans benefits, financial assistance, and Social Security, he chooses to walk barefoot on the cold streets of New York. From here, we can see that this situation cannot be easily solved with a brand new pair of footwear. Officer DePrimo rightfully deserved the attention and praise that he got from his good deed, but Hillman deserved something else — more long-term attention and help.
Although America is currently facing mounds of economic challenges, it remains one of the richest countries in the world. And that homeless man lives in that country. Citizens should recognize that one man shedding a few of his hard-earned dollars to buy a homeless man new shoes can make a difference. This is a good start. But they should also recognize that some problems are just too complicated to be solved by ordinary individuals.
'Not just on Christmas'
Looking at the major cities around the world, we can see that they have practically become home to homeless people. Every city has a different situation, different laws, and different statistics. But each major city still needs all the strength and resources it can muster to combat poverty, homelessness, and unemployment.
The police officer's act of kindness became an Internet sensation that came and went. People have already moved on to the next internet sensation. But we should all realize that we should all turn back and look at the homeless man's story more closely. The shoes are a big help for him, as well as for other homeless people scattered all around the world. Cash donations certainly help. But the story of Police Officer Larry DePrimo and Jeffrey Hillman could have a happier ending if everybody, including those in the government, would only stop to look at the whole situation and push for better health services, more affordable housing programs, and more jobs. And not just on Christmas.
When was the last time you helped a homeless person? What other things should be done to provide long-term solutions for homelessness?
Image: Joie de Vivre Lifestyle