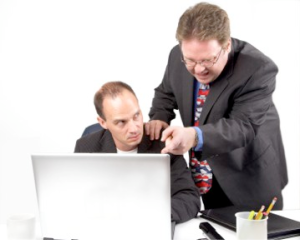 According to recent studies, being an office jerk is highly contagious. I'm not kidding.
'Obnoxious behavior'
A troublesome and uber-bossy boss can make work life miserable for his or her subordinates, but a new research shows that those subjected to obnoxious behavior in the office are more likely to act rude themselves, thereby influencing others to do the same.
Take this situation, for example: Worker A gets bullied by his boss so he complains to Worker B, who in in turn, spreads the word to the Worker C beside him that Worker A is being bullied by the boss. Worker D overhears this conversation and drops all sorts of negative comments about a boss an another person, Worker E. Worker D hears these comments and reports everything back to the Boss. This stirs up negative energy among office workers. And the chain of rude acts goes on.
WebMD cites a new research from University of New Hampshire organizational behavior professor Paul Harvey which shows that office jerks can actually influence others to be jerks themselves.
'Zero tolerance'
"Abusive bosses not only cause misery for the employees they target, but they also poison the work environment for the victims' co-workers," reports the article. How? The researchers write: "Employees realize that the organization is allowing this negative treatment to exist, even if they are not experiencing it directly."
How can we fight this nasty "Office Jerk" virus? Well, lucky for us, there is a surefire cure for this. If you yourself are guilty of engaging in Office Jerk activities, put an end to it. Immediately. I mean right now. No delays. You might have been a jerk to only one person, but what you don't see is that you've done more harm than what meets the eye.
I believe every work setting should implement a zero tolerance policy for the Office Jerk Virus. This policy should help cement your working relationship and help foster a more productive working environment for both bosses and subordinates.
Have you been affected by the Office Jerk Virus lately? How did you counter this nasty problem? Feel free to share your experiences with us!
Image: Johnny Tubesteak