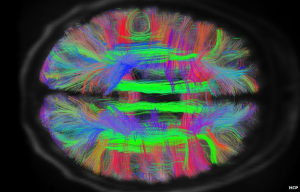 Scientists are set to release the first batch of data from a project designed to create the first map of the human brain. The project could help shed light on why some people are naturally scientific, musical or artistic.
'Full monty'
Some of the first images were shown at the American Association for the Advancement of Science meeting in Boston. Scientists at Massachusetts General Hospital are pushing brain imaging to its limit using a purpose built scanner. It is one of the most powerful scanners in the world. The scanner's magnets need 22MW of electricity – enough to power a nuclear submarine.
The researchers invited me to have my brain scanned. I was asked if I wanted "the 10-minute job or the 45-minute 'full monty'" which would give one of the most detailed scans of the brain ever carried out. Only 50 such scans have ever been done. I went for the full monty.
'Learn how the human mind works'
The result was a 3D computer image that revealed the important pathways of my brain in vivid colour. One of the lead researchers, Professor Van Wedeen, gave me a guided tour of the inside of my head. He showed me the connection that helped me to see and another one that helped me understand speech. Prof Wedeen used visualisation software that enabled him to fly around and through these pathways – even to zoom in to see intricate details. He and his team hope to learn how the human mind works and what happens when it goes wrong.
"We have all these mental health problems and our method for understanding them has really not changed for over a hundred years," he said. "We don't have imaging methods as we do for the heart to tell what's really going on. Wouldn't it be fantastic if we could get in there and see these things and give people advice concerning what their risks are and how we could help them overcome those problems?"
What other functions could this brain map present to us? Are you interested in undergoing this type of brain scan?
Source: Pallab Ghosh, BBC News
Image: Nonsolofole