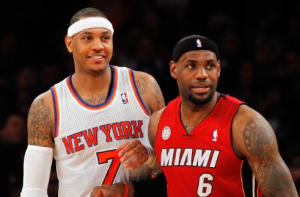 According to Ramona Shelburne and Brian Windhorst of ESPN.com, the Lakers are hoping to make a run at Carmelo Anthony and LeBron James in free agency next offseason.
'Max-level contracts'
Both Anthony and James have the option to terminate their contracts following the 2013-14 season to become free agents. It is unknown whether either or both players are considering doing so, but there is no question that they would be the two biggest prizes on the market.
Anthony and James would obviously be in line for max-level contracts, so the Lakers would probably have to do quite a bit of maneuvering to get deals done. According to Shelburne and Windhorst's sources, there are conflicting opinions regarding whether the Lakers will have a realistic shot at landing either.
'Pay cut'
James' potential free agency has been a major topic of conversation since he has already won two titles and can afford to go wherever he wants. According to Shelburne andWindhorst, though, a league source believes that LeBron is far from reaching a decision. As for Carmelo, Shelburne and Windhorst are reporting that a termination of his contract is even more likely than James as he could then seek a four- or five-year deal.
Since Kobe Bryant is scheduled to make $30.5 million this year, he would almost certainly have to take a pay cut for the Lakers to haul in such a sizable bounty. Arash Markazi of ESPN Los Angeles believes that Bryant would be a key figure in getting LeBron, Carmelo or both to sign in L.A., as he loved playing alongside them in the Olympics.
Do you think the Lakers will succeed in signing both LeBron James and Carmelo Anthony for the 2014 offseason? And will Kobe Bryant take a pay cut?
Source: Mike Chiari | Bleacher Report
Image: ESPN